Solinteg's hybrid inverter product, Integ M series of three phase 4-20KW, with features of modern appearance, advanced performance, easy installation and stable long-term operation, is optimal for residential and commercial solar energy solution.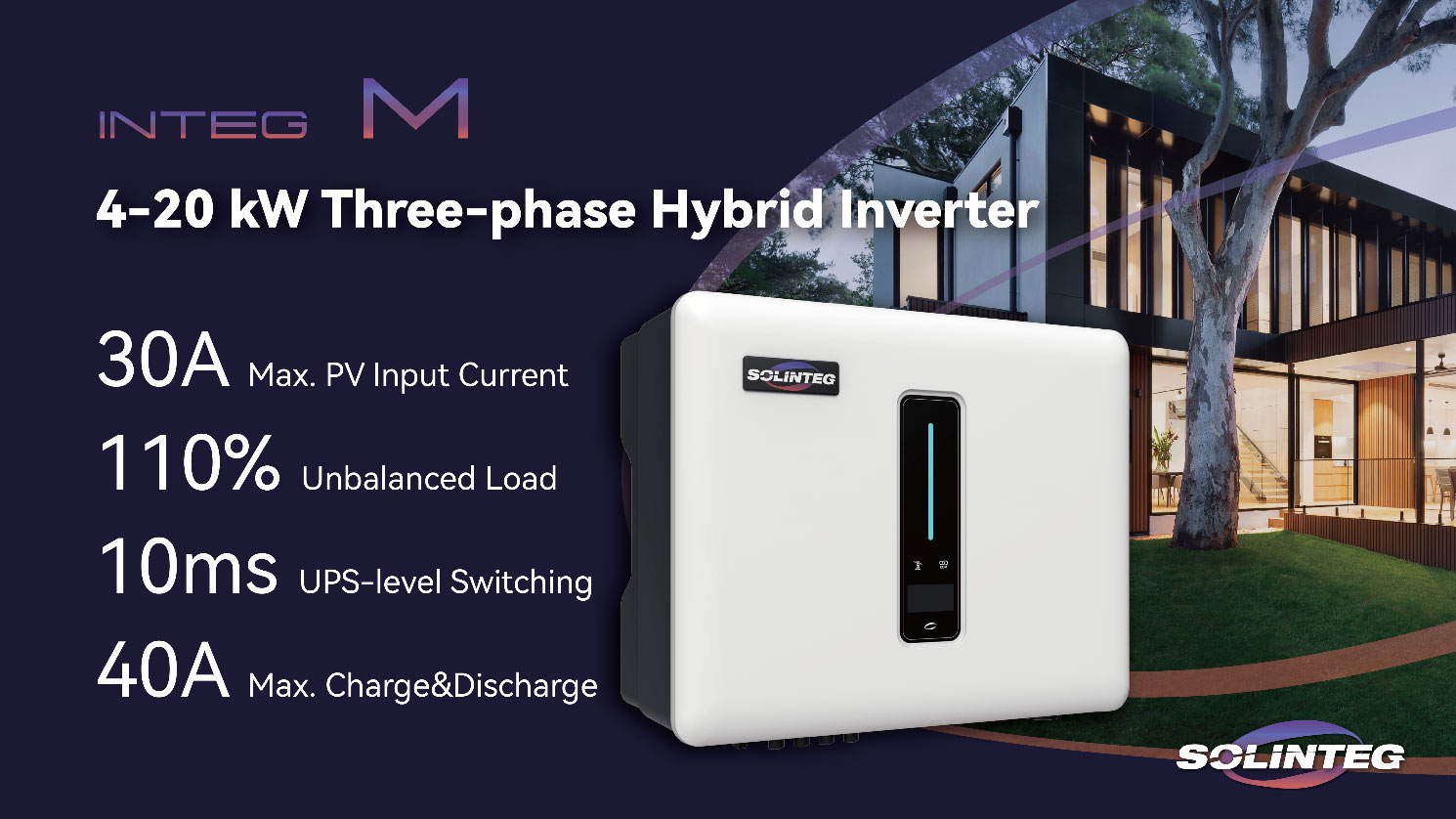 Solinteg, who focuses on cutting-edge solar inverter technology, offers hybrid three-phase inverters in eight power classes of 4kW, 5kW, 6kW, 8kW, 10kW, 12kW, 15kW and 20kW. With these various power classes and parallel operation capability, Solinteg provides a flexible and comprehensive selection for households and commercial enterprises.
The inverter measures 534×418×210mm, weights 27kg and features efficiency spans from 98.2% to 98.4%, and the European efficiency from 97.3% to 97.5%. Benefits from Solinteg's unique R&D "MORE" platform, inverter products value added with strong functions as follows:
– Support PV input current up to 30A, which is compatible with all mainstream solar modules in the market to prevent power loss due to big current of high-power module.
– Phase unbalanced load capability up to 110%, is extremely useful for relevant market where the grid counts each phase separately. It can optimize energy use and save electricity costs.
– 10ms UPS-level switching, means an imperceptible speed of power switchover when power outages occur, which can keep the continuous operation of the uninterrupted load.
– Strong back-up output function that can support maximum 200% back-up loading @60 seconds and withstand consecutive back-up overloading up to 110%. So even in off-grid mode, the large inductance loads can still work.
– On the battery side, products with a wide battery voltage range of 135-750V allows flexible battery capacity configuration. Also, with big charge/discharge current up to 40A, the inverter can charge and discharge the battery in a shorter time with higher power which can satisfy the higher demand of energy consumption or trading.
In addition, the Integ M 4-20kW hybrid inverter is designed from the user's point of view. Integrated with OLED display and built-in Solinteg EMS, it is easy for data reading and energy monitoring. The horizontal layout design of the interface and the function of Wi-Fi configuration via APP can make installation and setup convenient. And inverter shell with aluminum alloy die-casting process balances the aesthetic and reliability.
"Besides 4-20kW three phase hybrid inverter, we will launch 3-8kW single phase and 25-50kW three phase of Integ M series hybrid inverter very soon this year." Solinteg said, "We are committed to delivering the most complete inverter product solution for residential and commercial use."